Umbraco 8.0 Open Source Content Management System (CMS)
Umbraco is known as the Friendly CMS with over half a million active installs.
What is Umbraco?
Umbraco 8.0 is an open-source Content Management System (CMS) platform for managing and publishing content.
Umbraco is known as "The Friendly CMS" for its user-friendly features like flexible content management, intuitive editing experience, extreme responsiveness and cross-platform compatibility.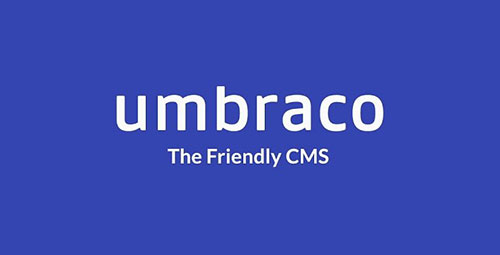 Umbraco 8.0 features include:
Infinite Editing - managing content is intuitive and frictionless
Multi-device Previews
Scheduled Publishing
Versioned Content - an infinite undo button
Content Apps - Insightful content companions
Image Cropper - point and click to automatically resize and crop
Control how your content looks on social media
Multiple editor roles
We recently carried out an evaluation on the Umbraco platform to see how it stood up to two of its competitors. Read about how Umbraco faired here: Comparing WordPress, Umbraco and Drupal as CMS platforms.
Based on Microsoft .NET MVC
Umbraco 8.0 is based on Micrsoft's compiled .NET framework. .Net give a stable and powerful programming platform which makes extending Umbraco a simple process. It's compiled, which makes is more secure and lightning fast.
Even though the Umbraco system is open source, the underlying platform is Microsoft proprierty, so you get the best of both worlds:
A stable and forward compatible platform to program with, no support or maintenance issues.
An application that is open source, so a lively community supporting and developing fuetures for developers and users
Why choose Umbraco 8.0?
Umbraco 8.0 has a wealth of user features which give content editors huge scope and control over their websites. The high level of user-friendliness of this CMS means features are within easy reach of everyone but the most infrequent users.
This platform is easy to customise so allows us to mould your website to meet your unique bussiness requirements. Its easy to integrate with other systems, e.g. eCommerce platforms and Web Portals.
We build websites by focusing on the UI and user experience. Umbraco 8.0 allows us to develop your website with your stakeholders firmly in focus because it's not theme based. It requires a bit more thought up front, but greater flexibility down the line.
We like it, and we think you will too.
Get in touch today if you are considering Umbraco 8.0 for your next project.