Are you considering migrating to Microsoft Office 365? We are all familiar with the Office suite of programs; especially Outlook, Word and Excel. Microsoft Office has been, and is, the workhorse of almost every company in the world, where would we be without Office?
While some people will be aware of Office 365 and know that it's the cloud version of Office, most people do not know why Office 365 really is a huge leap forward from the humble beginnings of Microsoft Office when it was first released on 30 August 1992. The main advantages are: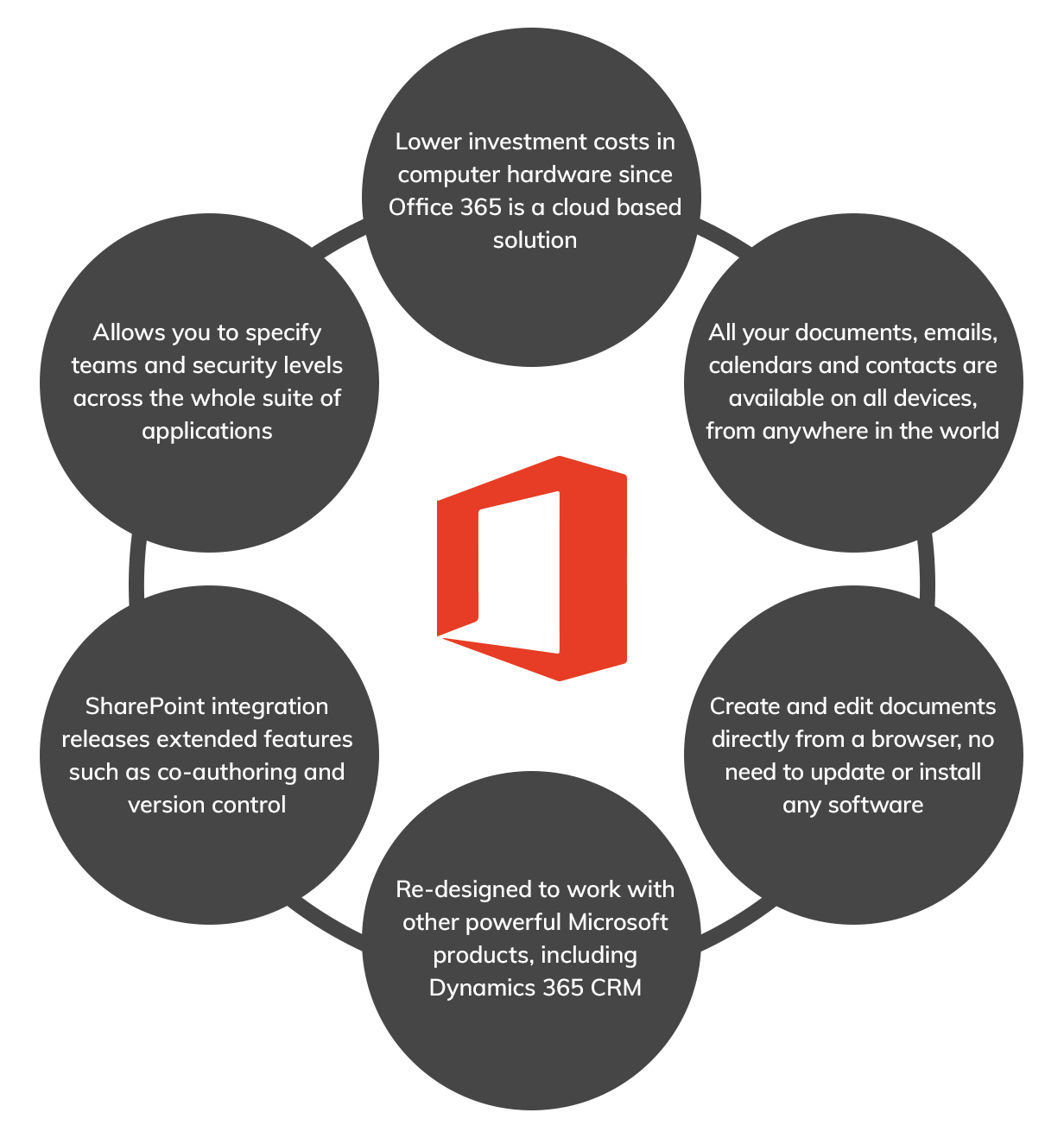 Lower investment in computer hardware
Since Office 365 is a cloud base solution, you no longer need to invest in expensive servers. You can use lower spec PCs since there is now an option to run all Office applications online though a browser. Document storage includes OneDrive person, OneDrive for business right up to a full blown SharePoint solution.
Always available
All your documents, emails, calendars and contacts are available on all devices, from anywhere in the world as long as you have an internet connection.
Office applications are available online
This means that you do not need to install applications on your local computer. You can create and edit documents directly from a browser. You never need to update your software, online versions are always up-to-date.
Integration with Dynamics 365 CRM
Office 365 has been re-designed to work with other powerful Microsoft products, including Dynamics 365 CRM. When used alongside Dynamics 365 CRM, Office 365 allows tracking of emails, diary and tasks against sales opportunities.
Integration with SharePoint
Office 365 has been re-designed to work with other powerful Microsoft products including SharePoint. SharePoint releases the extended features of Office 365 such as document co-authoring and version control.
Security
Office 365 allows you to specify teams and security levels across the whole suite of applications.
Project Plan
We can help you to implement an effective Office 365 solution for your organisation by following industry best practice. Arkom's project plan normally encompasses the following: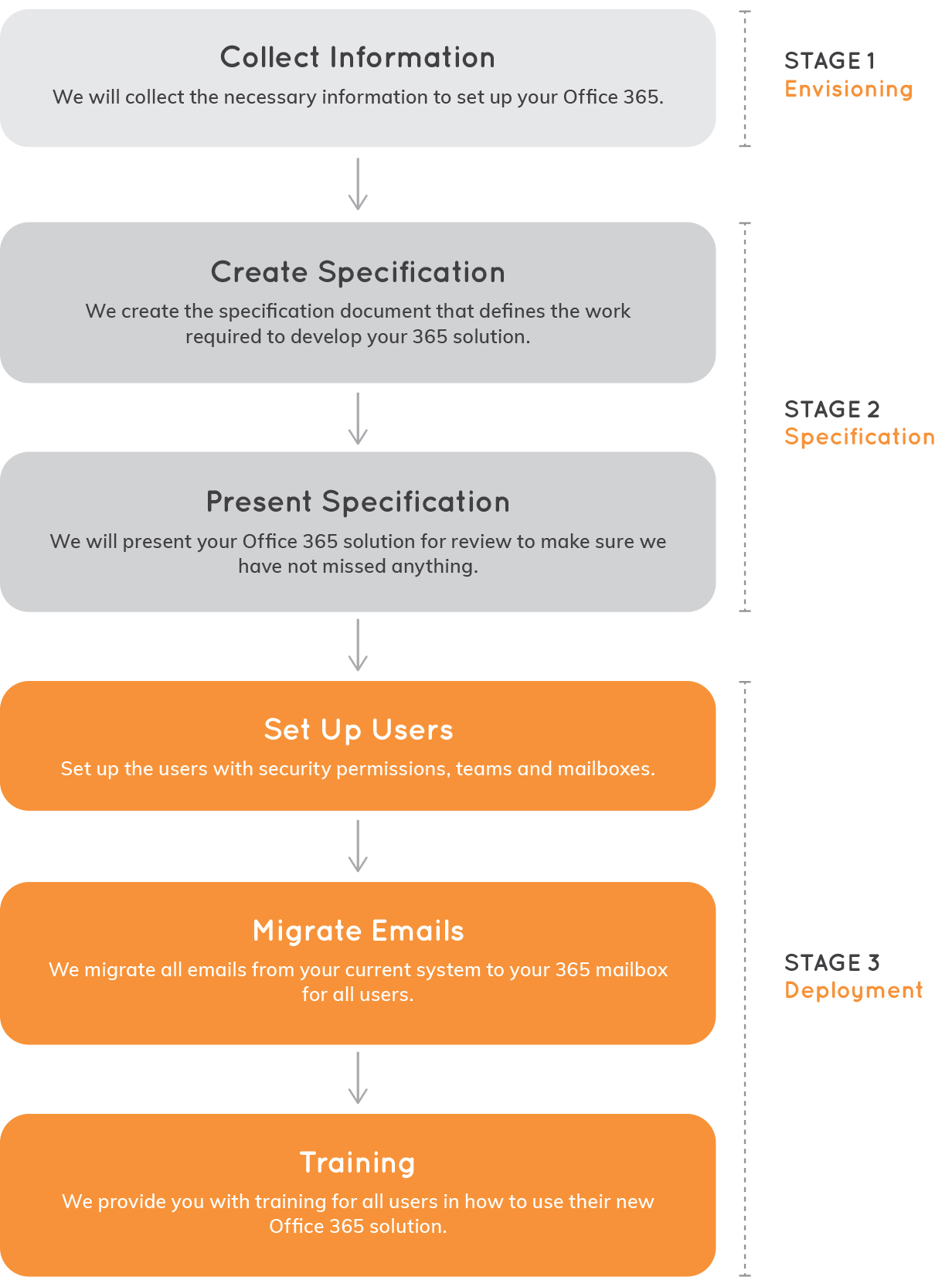 Above all, we take a phased approach. The first deployment of your Office 365 solution should be simple, and may be limited to:
Outlook
Word
Excel
PowerPoint
OneDrive for business
Video conferencing
OneNote
And contain enough 'wins' to get the team using the system.
Future Phases
Future phase deployments will be driven by the users and facilitated by your assigned Office 365 consultant from Arkom creative technology and may include additional solutions including:
Dynamics 365 – Microsoft's powerful CRM system
SharePoint – Microsoft's Intranet solution for collaboration, document management and much more
Why Choose Us?
We provide solutions and implementations based on Microsoft Office 365. By taking a standardised approach to basic office software and configuration we are able to provide a complete cloud solution plus support for a very cost-effective price point. Hardware is viewed as plug and play appliances which are renewed when they break down. Having said that, Hardware is much more reliable than it used to be and can last for a long time before needing to be replaced.