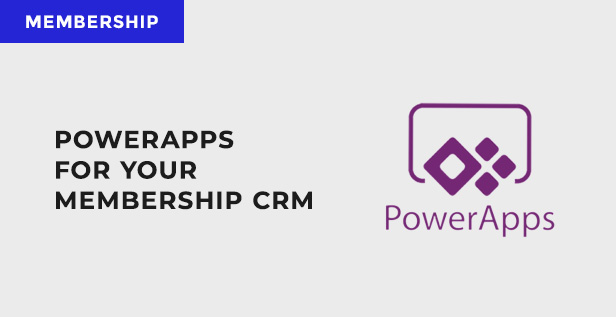 So, you're looking for a new flexible CRM system for your membership organisation, either because you're currently using spreadsheets as a membership database, or your current set up just isn't quite making the cut. You have some very specific ways of working as a membership organisation that could lend itself very well to a customised application.

Gone are the days when having a custom solution built for your organisation could take months or even years to develop, by which time you've evolved and the solution you started to design already needs tweaks, which aren't always easy to make using legacy software.

We now have PowerApps, an easy-to-use flexible application which is part of the Microsoft family of applications within Microsoft 365 (formerly Office 365), so it works seamlessly with all of the M365 applications such as Outlook and SharePoint. With it being Microsoft, its open architecture means it's compatible with the vast majority of other software applications on the market.

Well, you've made the right decision considering PowerApps to drive your CRM database in the right direction, you might want to know why, read on.
Packaged vs Platform
There are two types of solution available on the market; Platform and Packaged.
A Package solution is an 'out of the box' option, you 'get what you get'. It's a solution that's put together for a particular purpose or to solve a specific problem. It can be made up of various aspects such as software, services, support and training. The different aspects of the solution are put together as a bundle and sold as a package. You guessed it, that's why it's called a Package solution!

PowerApps is a Platform solution which gives you ultimate flexibility.

A Platform solution is the customised option. Simply put, this solution is the one that will allow you to build and sculpt it in a way to meet specific organisation requirements. The Platform solution is generally less expensive than a 'custom' solution because the software is pre-built as a template but can be further tailored to meet your requirements.

If you're a membership organisation that has a view to grow and develop over time, a Platform solution is most likely going to be your best option. As your organisation changes you can mould your solution to fit your future vision. If you go down the Package route you could be looking at an expensive re-development bill when you get to this stage.


Dynamics 365 or PowerApps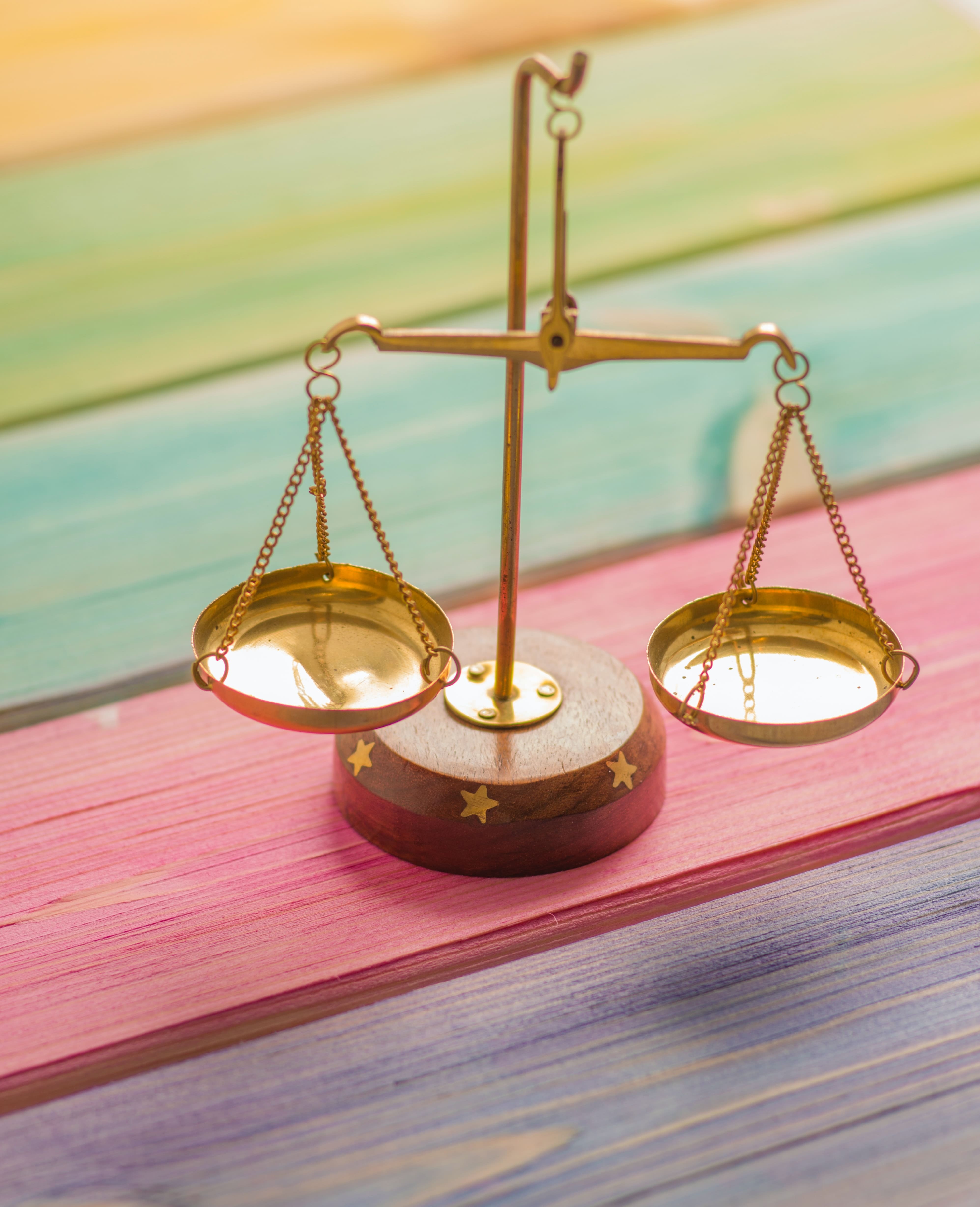 Photo by Elena Mozhvilo on Unsplash
Dynamics 365 is essentially a large pre-built PowerApp that includes a complete multichannel solution heavily geared towards the sales process, which is generally not required for Membership Organisations in most cases.

A lot of the functionality in Dynamics 365 is not used for Membership solutions such as Leads and Opportunities. PowerApps is flexible, meaning that you only include the functions you need, increasing productivity and reducing costs; licensing costs for PowerApps is significantly lower than Dynamics.

Dynamics 365 has a built-in email marketing tool, which does the job but can be quite clunky and difficult to use.

PowerApps doesn't have a built-in email marketing tool where you can style the emails and make them look visually appealing, however it does have the ability to send 'ad-hoc' mail shots which we will cover shortly. You also have the option to integrate with 3rd party email tools such as Mailchimp where you can run visually appealing marking campaigns.

It's worth noting that the email marketing tools included in MailChimp are easier to use and slicker than those included in Dynamics 365.

PowerApps and its lack of multi-channel, bulk marketing tools could be seen as a negative, but the ease of use and flexibility of the PowerApps/MailChimp combination for most is a better solution than the offering from Microsoft, especially for membership organisations.


Customisable and configurable
You can be really specific with what you want to include in your CRM and how you want it to work because PowerApps is a Platform solution.

Every menu, list and field are customisable. You can choose how you want to view your data and how you'd like to manage it. Automatic workflows can easily be added to streamline processes where required, giving you a seamless user experience. When compared with a Package solution (where you get what you're given), a PowerApp can adapt to suit you instead of you having to adapt to suit the system.

The flexibility can actually be quite overwhelming, but once you're used to navigating PowerApps it's extremely user friendly and simple to use. If you're a membership organisation that needs more flexibility and customisation from your CRM, PowerApps is a fantastic solution that will not disappoint.


Sustainable & Futureproof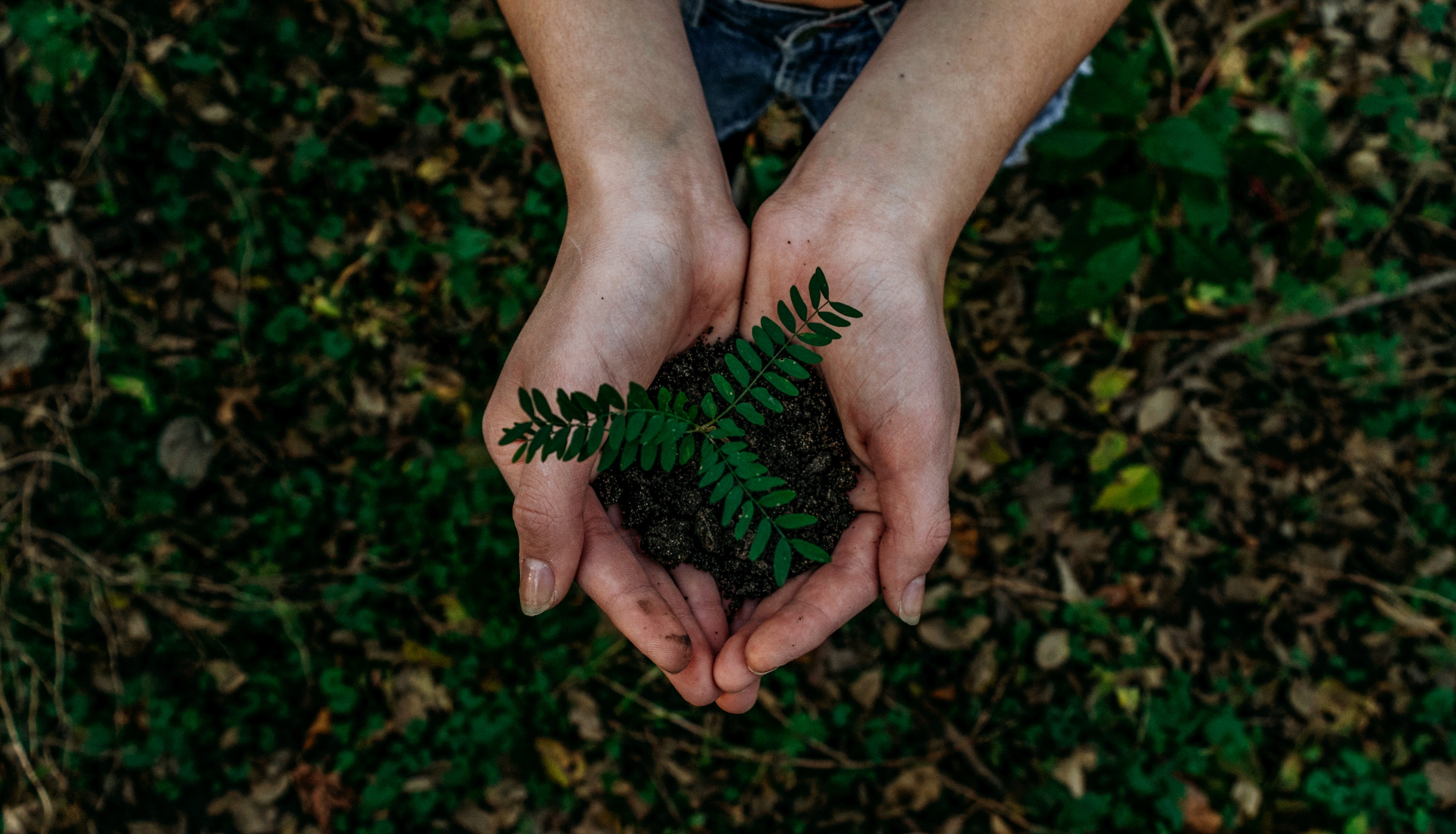 Photo by Noah Buscher on Unsplash
The great thing about PowerApps are that it's not a one size fit all. You're able to start with as much or as little functionality as you'd like.

You may want to start off with basic functions and build on them over time, that's always a sensible option as you then have the ability to add specific functions as and when required; instead of running before you can walk. This lends itself very well to splitting the roll-out of the system into stages, to give staff and committee members time to adjust.

Microsoft are consistently upgrading the features within PowerApps, giving peace of mind that it's here for the long term and will offer even more fantastic features as the technology advances.
Integrates seamlessly with other Platforms
As expected with all CRM systems, they're great at what they're designed to do but what if you want to tie in other activities with your CRM?

Say you want to send out an email marketing campaign to your members using a 3rd party application such as Mailchimp with the ability record your click throughs and open rates.

Because PowerApps is a Microsoft product built on the common data model, integrations to most 3rd party applications with open API's are painless. In simple terms, it could do a lot of automations without you having to lift a finger.

For example, you can easily integrate your email marketing campaigns in Mailchimp to PowerApps allowing you to view all your Mailchimp data, such as subscribes and unsubscribes, all in one place. Handy ey!

Common integrations for membership organisations also include Direct Debit transactions, card payment systems, email marketing platforms and accounting systems.
PowerApps CRM Built-in Tools
Views
One fantastic feature within PowerApps is Views; this allows you to organise data on screen in a way that suits a particular requirement.

For example, if you wanted to set up a View that presented only student members that had attended events in the last 12 months, you could do that in a couple of clicks. Once the View is set up you can pin it, so it's saved for later, if it's something you're likely to need a lot.

Once you've set your Views up, user defined Dashboards Charts & Graphs can be created.
Dashboards
Dashboards are a simple and highly efficient way of presenting important and relevant information to everyone in your organisation. PowerApps allows you to set up personal Dashboards for your own use but you also have the option for system administrators to set up system Views that all users can access.

As an example, if you're the Treasurer you're likely to want access to a Dashboard such as 'Membership fees paid this year', where a graph of all the payments received this year is pulled together from the data in CRM and presented in an easy-to-understand format.

This would be a personal Dashboard that only you could see, however your system administrator whoever that may be (potentially the chair/secretary) may have set up a Dashboard for all system users to view such as, 'member retention figures this year'.

You then have access to both your personal Dashboard and company Dashboard; this is the same for everyone throughout your organisation. They can set up their own personal Dashboards specific to them and in turn view the same company Dashboard as you.


Charts & Graphs
Not only do you benefit from the flexibility of Views, but you can easily pull together graphs and charts.

Now you've got your View of all student members that attended events in the last year you might want to know what total income that generated. Well, you have the functionality do that by using the Charts and Graphs function.

You can select the data that you want to transfer into a Chart from any View, click 'show chart', et voila… PowerApps will show the Chart on screen which you can then edit based on how you want to view the data. This data can then be extracted into an Excel spreadsheet if required.

Example of Grants module chart: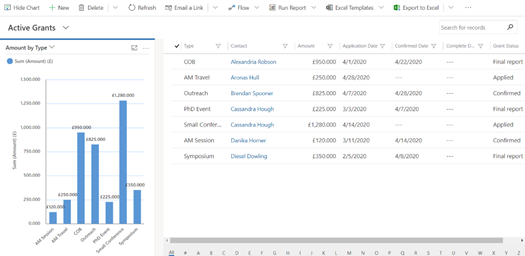 Ad-Hoc Mail Shots
Have you ever been in a situation where you have a bulk email to send out to a specific group of members and just wished you had a simple way of grouping your contacts and sending the mail within a few clicks!?

PowerApps includes a built-in function which makes emailing groups on the fly effortless. You're able to filter contacts based on any information you have stored against your members. You then bulk select all the results based on your filter options and can send emails to them all, straight from the CRM.

For example, if you wanted to send a payment reminder by email to all members that hadn't made payment for an event, you would filter all contacts that had booked the event, then filter again on who has 'not paid'.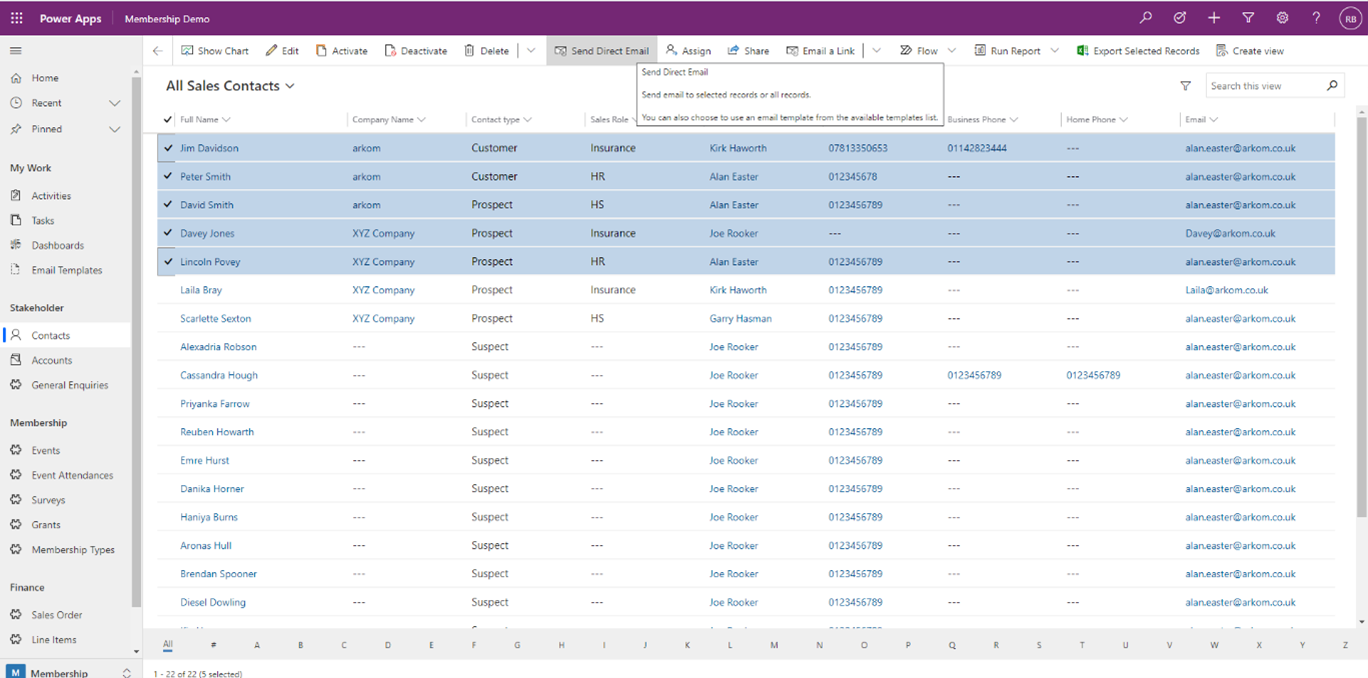 You then select all and click 'send direct email' (see above example). Next, you get an option to select a template that you've previously put together. For this example, the template could be named 'payment reminder' with mail merge tags to automatically pull though the recipient's name.

That's it, click send and PowerApps will send the emails for you through the integration with Outlook.

These are just a few nifty features that PowerApps has to offer, there are many more depending on what you're wanting to achieve.
Outlook
PowerApps integrates seamlessly with Outlook. All emails can be tracked and recorded against each contact or account giving you full visibility within CRM. This means you don't have to switch between CRM and Outlook when trying to locate emails, the email trail is automatically tracked once you hit sync.

This is all presented to you on an intuitive timeline so you can track all correspondence and any tasks relating to that particular thread. You have the ability to add ad-hoc notes to the timeline too for recording additional information against a record.
Anyone with access can then log in and view the complete timeline of correspondence and notes, which is a really great feature for membership organisations when updating members account information.
SharePoint Integration
There's a built-in integration with SharePoint through PowerApps which gives you all the benefits of SharePoint within your CRM.

The integration allows you to view files in CRM against a particular entity such as an account or contact. For example, you could have all of your files that are linked to a particular event visible against the account in CRM. The files will show exactly as they do in SharePoint without you having to actually log in and open SharePoint itself. This makes life so much easier when managing events as everything is visible and stored in one place.

Another benefit of the integration is that you save on storage space within CRM as the files you're viewing in CRM are actually stored on SharePoint. Depending on the amount of files you store this could potentially save you some cash.
Summary
If you're currentCRM lacks flexibility for your membership organisation, then PowerApps is sure to be a huge upgrade and will no doubt make your life easier when managing your membership. The user experience is very pleasant and intuitive making it really easy to become familiar with.
The customisation and flexibility makes it a perfect solution for any membership organisation looking to add value to their membership and also save some valuable admin time in the process.

Are you looking for a new CRM system? Talk to us about it

here