If you're wanting to build brand awareness, collaborate, reach new audiences or just show people what a great company you are to work for, Instagram is a great (and growing!) platform to do that on. Its users are engaged, its functions are cutting edge and, well...there isn't really a right or wrong way to do it.
I've seen a lot of videos which will teach you how to grow an Instagram, and there are some that are better (and more realistic) than others. I'm hoping to be a lot more detailed than these videos, and describe for you exactly how and why I took certain actions for our account, and doing it LIVE as it happens, not in retrospect.
This video below, for example, talks about getting an account from 0-100K followers in 48 hours. But in later videos, the guy explains that's only possible because of years of setup (networking with cross-posting pages) and also, a lot of $$$.
You might want one simple list or trick to follow. But there are so many ways to play the insta game, you should find the way that suits you. Create your own way to play.
As part of our Unmasking Marketing series, we'll share our Instagram journey with you. This is just our way of playing the game, and I have a very specific goal in mind, which is to build awareness & reputation as well as communicate socially with other brands.
Starting Out - A False Start!
I wrote the paragraph below into this article before I acted on it:
"Organise a welcome to instagram photo of the team – if you want to announce your arrival to Instagram and share that you're new. That's not entirely necessary, as you might want to give the illusion that you've just always been going - given that I want to build our reputation as a personal kind of business, a team photo seems the most suitable way to kick off the content."
I ended up not doing it. It seemed like a good idea when I thought about it in the shower but in the cold light of day, it felt contrived.
I want our Insta to reflect reality. With the mood in the office (it was busy) taking everyone away from their work for a photo just didn't sit well with that ethos. I'm sure at some point we will have a team photo, but it'll be at a time where it's happening anyway.
I've found that working with a team as opposed to running my personal insta – grammin' must be an accepted part of the office life if you want to bring others into the mix.
Don't be shy! I was up front and asked people if they minded featuring in pictures! A couple weren't, so I didn't press the issue. I've found that as I go on, naturally, and they see it develop, they've become more comfortable with it.
Some people will advise posting out 9 pieces of content to fill up your feed so it doesn't look like you're just starting out. This didn't sit well with me. Posting every day meant in 9 days that was filled anyway.
But you do you. If you feel more comfortable waiting until you've got 9 pieces of content and then posting them in quick succession, do that.
Starting Out For Real - Diving into Content
On the first day I'd planned to begin posting, our MD Alan brought some fancy chocolate - Mozart Kugeln - back from Slovenia. The novelty value alone was something I identified as being 'grammable. Food is popular on Instagram. When you aren't popular yourself (0 followers remember!) - then it's wise to make popular allies. Food was my first ally.*
*Funnily enough, novelty food was always part of my strategy for Insta, because it did reflect the reality of our office. Garry, our other Director and back-end developer has a penchant for bringing in bizarre foods and I had the idea to cultivate a theme of "Gastro Gaz." I'll return to the theme of themes later.
I didn't think I'd get any likes at all. My expectation was zero. Posting with no followers felt strange, like shouting into an empty field. But when you have a strategy to stick to, it pulls you through the times of doubt.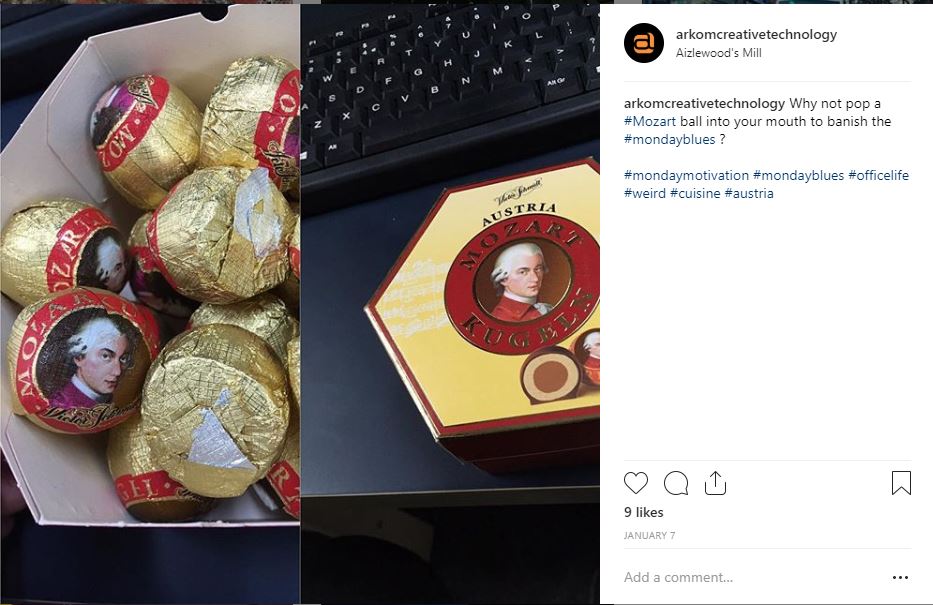 That said, you don't want to let strategy diminish creativity – it's there to fall back on when you're out of ideas.
You might be sat there reading this thinking, "I don't have any ideas at all for content." That's because you haven't actually sat down and dedicated the time to doing it.
I've said it before and I'll say it again, if you do your marketing as an afterthought, you might as well not be doing it.
If you don't have a strategy and struggle to think of one, copy mine:
Post at least once a day.
Use (don't abuse) hashtags.
Engage with others.
Always think content.
What do you think? Have you been putting off Instagram because you don't understand it? Have you struggled to create visual content for a non-visual business? Have you found that you're not attracting as many followers as you'd hoped?
Stay tuned by following us on LinkedIn
or follow our journey on Instagram: @arkomcreativetechnology
Or never miss a beat by hitting the Subscribe button below to get notified by e-mail of all new content!