What is a Member Directory?
A Member Directory is basically a place where your Members' details are kept. Having a Member Directory visible somewhere online could be a valuable asset to your organisation; not only for increasing revenue, but also providing value to your members and stakeholders.
There are many variations of how a Membership Directory can work and they can come in all different shapes and sizes. This largely depends on who your membership organisation is and what your aims and objectives are. Below we discuss the different types of Directories available and the doors that it could open for you.
Public vs Member-only Directories
The first thing to tackle is how people will access your online Member Directory. You need to ask yourself the following questions:
Who do I want to see my Member Directory?
Do I want it visible to general members of the public?
Or do I want it only to be visible to other Members?
If so, will only certain membership levels have access, or will it be available to all Members?
There might be simple answers to these questions, or they may throw open some internal debate. It's important that this gets ironed out initially and you compare it against what you're trying to achieve with the wider organisation's aims and objectives.
For example, APCP (Association of Paediatric Chartered Physiotherapists) is a medical special interest group for professional physiotherapists. As well as providing support to their physiotherapist members, they also wanted to support patients in finding suitable physios in their local area.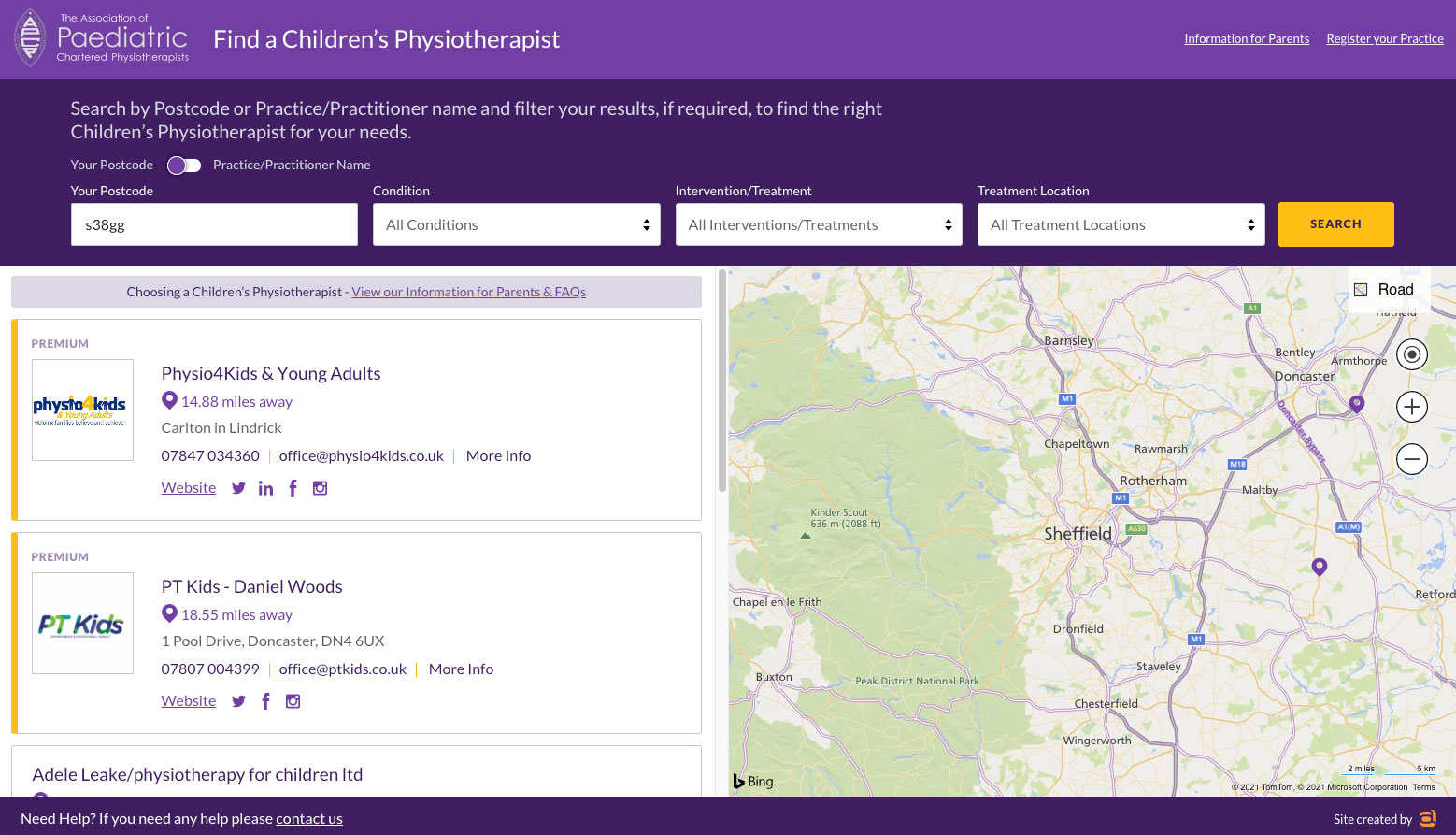 APCP Public Member Directory
In this case, it was important that the Member Directory was visible to anyone landing on the website and there are key signposts to find it online. As well as supporting patients, this also gives your members great visibility online.
On the other hand, a private member-only Directory could be better for your needs.
Take Sheffield Chamber of Commerce for example. They are a professional membership association that encourage networking between members. In this example, it was worthwhile to have the Member Directory only visible to other members via the Member Hub Portal. This is a great way to encourage collaboration between members and provide added value.
Self-serve vs Staff-managed Directories
The next set of questions to ask yourself are about how you want to manage the directory and keep it up to date:
Do you want to manage the Directory internally?
Or do you want members to manage their own Directory profiles?
If members are going to manage their own profiles, do you want the ability to override or approve the information members put on?
You may want full control over who and what is put on the directory. However, as identified in Memberwise's 2019 Digital excellence report, self-serve options are deeply valued by members. Giving them the the flexibility to keep their Directory profile up to date can save your organisation valuable admin time. However, sometimes it's easier said than done encouraging members to put on the correct information, and keeping it updated, which is why it's often useful for you to be able to go in and edit the profiles too if needs be.

What information do I show on a Member Directory?
Standard information such as names and contact details are usually available in a Member Directory. However, depending on how you plan to use it can determine what other information is available and what people can do once they're on there.
First of all, it's important that you give your Members the choice to appear or not to appear on the Directory; whether this is covered off during the registration process, or you provide an "opt in" option via your Member Portal. Make sure you are clear what information of theirs will be shown and have a clear opt out process.
You could also choose not to show any direct contact information. For example, members may not want their personal email addresses and phone numbers viewable so an option to send a message via the Directory may be a happy medium:
Sheffield Chamber of Commerce Member Directory – Send Message contact option
Here are a few other things you may want to consider showing on a Member Directory:
Member Website links
Social media channels
Photo library
Map directions
Videos
Activity feed
Searching on a Member Directory
If your Member Directory is likely to be in the hundreds and thousands, it's key to consider how people will search and find who they're looking for.
This can be done in various different ways:
Simple name/keyword search
Proximity by postcode
Categories to refine results by
These should be carefully planned in the best way to suit who will be using the directory and how they will find it easiest to search.
How can a Member Directory benefit a Membership Organisation?
In the membership world, Directories can have a whole host of different benefits.
You could use it as leverage to encourage membership sign ups. e.g. you can only appear on the Directory if you are a member.
You could put an additional cost on top of the standard membership fee to appear on the Directory to increase your revenue.
It gives your members really valuable exposure, so it makes your offering richer and more appealing to potential and existing members.
Summary
You need to align your Membership Directory with your Membership organisation objectives, values and goals. This will aid you in understanding what your members and stakeholders need from the Directory and how best to serve its purpose. Carefully consider who you want to be able to see it, what information you want to show and how that information will be managed on an ongoing basis.